02/16/2022
The countdown is on for the 3rd EU Macro-Regional Strategies Week from 7-11 March 2022 under the slogan Engage, Empower, Evolve in Brussels.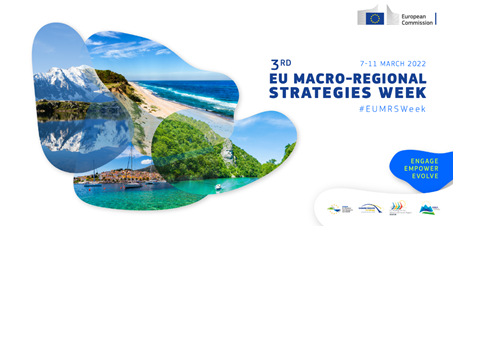 Due to the pandemic situation, the majority of sessions around the topics Youth, EU Green Deal and Social Change will take place online with a strong idea of ​​making the event as inclusive and realistic as possible.
What does it mean?
After her opening speech on Wednesday morning, Elisa Ferreira, Commissioner for Cohesion and Reforms, will engage in a Q&A session with the audience. Joining the interaction with viewers during the opening session on Monday afternoon will be the Presidencies of the four EU RMSs as well as Marc Lemaitre, Director General of DG REGIO.
However, if you want to involve and empower stakeholders, you have to involve them in the process. With less than three weeks to go, the program has been finalized with the last, but not the least, input from stakeholders from all macro-regions and EU institutions, showing great interest in the call that had been launched for the first time.
Which is new?
After listening to feedback from stakeholders, the event goes from closed to open sessions with two exceptions.
Online participants will be able to follow the discussion of the active members of the 14and Meeting of the High Level Group (HLG) on the morning of March 11, 2022 in purely listening mode.
The 5th meeting of the 4 RMS and EU Trio Presidencies, co-organized by the Lithuanian Presidency of the EUSBSR, is the only session to remain closed.
Registrations are open until February 25, 2022.