02/18/2022
Would you like to discover the history of European Territorial Cooperation (Interreg)? Want to learn more about the key considerations that led to the creation of Interreg while keeping up to date with the latest developments in this key European initiative?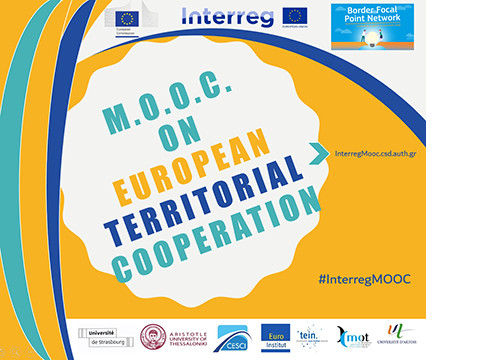 So join us from March 7 to April 24!
The European Commission, together with a consortium led by the University of Strasbourg, is delighted to announce the launch of a new massive open online course (MOOC) on European Territorial Cooperation (Interreg). This cooperation tool represents a key European framework for mutual cooperation both between the Member States of the European Union and between the European Union and third countries.
The course aims to present a general overview of territorial cooperation in Europe. It is divided into four sections:
The first section deals with the foundations and the general framework of Interreg by questioning the origins, the evolution and the theoretical framework of territorial cooperation as it has developed in Europe since the end of the Second World War. Participants will understand the historical context of the origins of territorial cooperation in Europe.
A second section presents the existing European policies in the field of territorial cooperation: Interreg, Neighborhood Policy, Macro-Regional Policy, etc., with a view to analyzing decision-making procedures, implementation, spaces and impacts. .
In the third section, a thematic approach is proposed. For each of the 5 policy areas identified (health, spatial planning, environment, culture, mobility), the objective is to assess how Interreg has contributed to shaping the implementation of these policies. The issue of multi-level governance is also explored as MOOC participants learn from first-hand experience how different stakeholders operate and interact.
Finally, a fourth part will assess how territorial cooperation is concretely practiced by the actors in the field, the difficulties they encounter and the methods deployed to resolve these difficulties and challenges. The objective of this section is to introduce the basics of project management and provide participants with a series of tools, which will enable them to develop and implement cross-border projects more effectively. This last section also examines whether Interreg brings real added value in the European cross-border territories where it takes place.
This MOOC is intended for:
The university community (for example, students and teachers);
Territorial cooperation practitioners (eg interreg programmes; projects);
Persons and organizations located in border regions who wish to promote the development of cross-border cooperation;
Anyone who is interested in European integration and who wants to learn about Interreg.
Registrations are now open.