02/15/2022
Cross-border or transnational – Does it matter? A collection of reflections from Interreg authorities and practitioners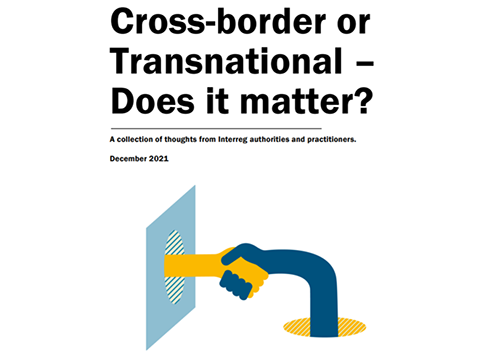 During the 2021-2027 programming period, calls for greater integrated approach to the implementation of sectoral and/or territorial policies was raised. In this context, the Commission, through the guidance documents, has encouraged enhanced cooperation between transnational and cross-border programs operating within the same area (including pre-accession and Interreg Next). Strengthening the synergies between the programmes, it would lead to a better response to common territorial challenges and to a stronger Interreg impact on the territory.
Based on the previous statement, the first step is to understand What is the difference between transnational and cross-border programs? Does such a difference really matter? whose? and in what terms? how do their results impact the territory?
The views presented by 18 territorial cooperation authorities and practitioners encompass the point of view of heads of EU institutions, representatives of Member States and macro-regional actors, as well as program authorities, project beneficiaries and experts. Their opinions show that there is no single answer to this question, nor a clear perception of what such a difference means for example, with regard to the type of results that the two types of strands can deliver in practice. The diversity of apprehensions also illustrates the way in which the relationship between cross-border and transnational cooperation is apprehended according to the geographical areas in Europe, the organizational context or the experiences of cooperation.
At the same time, we can see as a guiding principle that the difference between transnational and cross-border remains more of an operational issue which helps to identify strengths, what each strand of actions and interventions (cross-border or transnational) is for, which parts of the big picture can be solved either by one or the other, by combining the strengths and by complementing each other (in this case between cross-border and transnational elements and operations), offer the possibility of reinforcing the impact on the respective territory (European, national, regional, local, functional area, territorial strategies, etc.).
it is important to keep in mind that it was compiled at the turn of the period 2014-2020 towards the period 2021-2027 and that it is mainly based on how the cross-border-transnational issue is perceived at this time . The new programming period 2021-2027 could now bring some changes. In this context, it is important to underline that, for the period 2021-2027, the Interreg community will be extended to the Interreg "NEXT" programmes. In the past, these programs were funded by the European Neighborhood Instrument with a different cross-border concept than Interreg programs across internal EU borders. For 2021-2021, Interreg NEXT programs will adopt the same type of coverage as all Interreg programsbeing considered transnational (larger transnational territories or around sea basins) or cross-border (adjacent land or sea borders)