04/11/2022
The Commission opens today the application period for the 6th edition of the Youth4Regions program for journalism students and young journalists. Applications are accepted from EU Member States, neighboring countries and accession countries.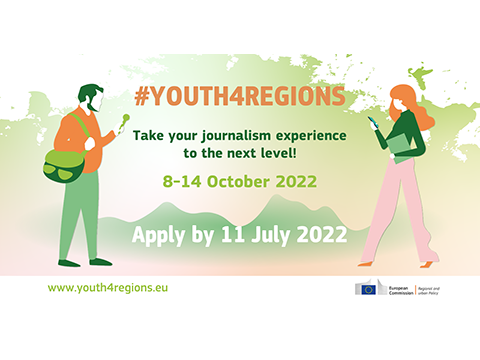 The 38 winners of the competition will meet in Brussels from 8 to 14 October 2022 to undergo training, benefit from the mentorship of experienced journalists, work with them in the press room and visit EU institutions and the media.
Winners will also enter the Megalizzi–Niedzielski Prize competition for aspiring journalists, awarded on October 11.
The application form and conditions of participation are available on the program webpage (www.youth4regions.eu) until 11 July 2022. The Commission will bear all costs of the participants. Youth4Regions is the European Commission's program that helps journalism students and young journalists find out what the EU is doing in their region.
Over 130 people from across Europe have gone through the program since its launch in 2017. A survey of former program participants found that 78% felt the program had benefited their careers through networking and professional advice . 93% believe that the program has helped them to improve their understanding of the EU and cohesion policy.