03/10/2022
The European Commission today adopted the first major infrastructure program for Bulgaria for the period 2021-2027 – the Transport Connectivity Programme. The EU has allocated €1.61 ​​billion, one of the largest amounts for Bulgarian cohesion programs in the 2021-2027 programming period.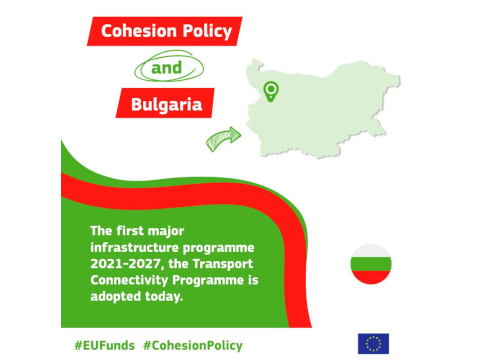 The investments envisaged will promote the use of environmentally friendly modes of transport and alternative fuels, improve the quality of road, rail and maritime infrastructure and contribute to reducing the harmful impact of transport on the environment.
One of the main tasks defined in the program is the timely completion of the TEN-T network and the digital transformation. Other priorities include:
attract passenger and freight traffic to rail transport by improving the quality of rail infrastructure;
eliminate bottlenecks in road infrastructure;
the development of intelligent transport systems and the implementation of innovative solutions for a stable, intelligent, secure and intermodal TEN-T in line with the objectives of national transport policy and the recommendations of the European Semester.
The most important planned investments are:
the construction and modernization of railway sections along the East/Eastern Mediterranean corridor, including a railway link between Bulgaria and North Macedonia, and the modernization of the Sofia-Pernik-Radomir railway line;
the construction of a road section along the East/Eastern Mediterranean corridor and the improvement of connectivity between the Rhine-Danube corridor and the East/Eastern Mediterranean corridor in the North-South direction, including the construction of the motorway Ruse-Veliko Tarnovo;
the construction of infrastructure for alternative fuels along the main axes of the national road network;
the development and extension of inland waterways and seaports for public transport for multimodal operations, the modernization and development of terminals and port facilities for combined transport.
Projects co-financed by the EU under the transport connectivity program will also contribute to the achievement of the objectives of the EU strategy for the Danube region.
Please see below a map of road and rail projects funded under the Transport and Transport Infrastructure OP 2014 – 2020 and scheduled for implementation in 2021 – 2027.